Mount Royal Camping
Mount Royal Camping provides a private bush camping area in a forest clearing for up to 50 people - it is set up for group bookings. Close to world heritage listed national parks.
We only take one booking at a time, so you don't need to share with anyone else! Bookings are essential - we will not be able to cater for you if you just 'drop in'!
Mount Royal Camping is located on the south-western edge of the Barrington Tops, only 3 hours from Sydney, 2 hours from Newcastle and approximately 1 hour from the Hunter Valley vineyards.
The nearest town is Singleton, 50 km to the south. Picturesque Lake St Clair is about 15 minutes drive away, and offers fishing and boating opportunities.
Mount Royal Camping provides a bush camping getaway to bring your own tent and camp in extensive soft, grassy bush camping sites. Sorry, we do not allow pets (our property is a wildlife refuge).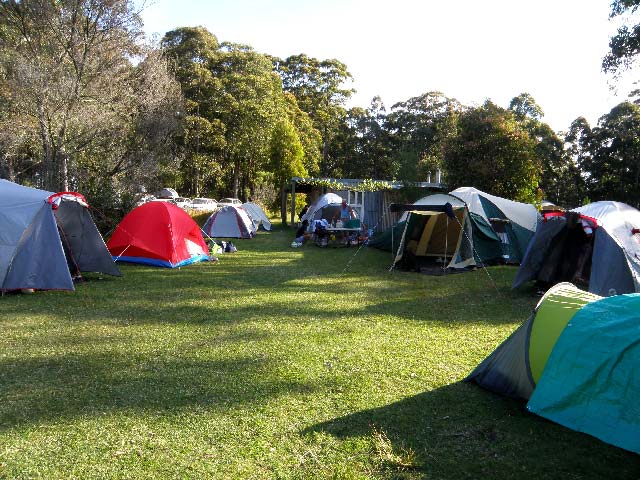 Camping Facilities
We have a large, grassy 'bush camping' area. Powered sites are not available. Facilities for campers are shared with the bunkhouse and include a 6m x 8m covered eating area with benches, tables & washing sinks, drinking water from a rainwater tank, gas BBQs, and a bathroom with flush toilet and hot shower. A campfire area is also available (weather dependent, and subject to fire restrictions).
The nature here is breathtaking, and see all the animals in their own environment was really something different - Eva, Sweden
Creature Comforts
Facilities are basic, but the setting is awesome. Enjoy beautiful clouds, sunsets, and starlit night skies around the campfire. A large, grassed area is suitable for games and activities.
Normally, the bunkhouse & camping area is only used by one group at a time to provide privacy, peace and quiet.
Wildlife at Mount Royal Camping Area is protected and no pets, motorbikes or generators are allowed.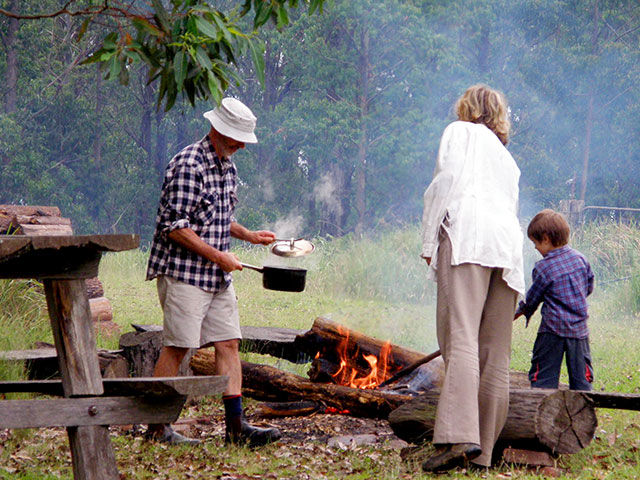 Downloads
Camping Prices & Booking
$15 per person per night with minimum booking $150*.
*Different minimum booking for long weekends & public holidays ($520)
We book only one group at a time for the camping/bunkhouse area and for the eco-cabin. The whole property (bush camping, bunkhouse and eco-cabin) is available for the exclusive use of large groups and functions including weddings and family events.
Contact us for a quote and to discuss your requirements.
Such a special place to visit. Thanks for the warm welcome - Mani
Camping FAQs
The facilities are suitable for family get togethers and celebrations, groups of friends, mountain bike riders and bushwalking groups, church groups, artists and photographers, and more …
What sorts of groups is the bunkhouse and camping area suitable for?
The bunkhouse and covered BBQ area has a small independent solar power system providing lighting only. There are no powered campsites, and no 240V power outlets are available.
What power and lighting is available?
Only one group is booked at a time. This means whether you have 2 or 50 people in your group, the site will be exclusively for your use. For this reason, we have a minimum booking fee. There may be people staying at Callicoma Hill eco-cabin about 800m away through the forest, although many groups book the cabin in conjunction with the bunkhouse and camping.
Will anyone else be staying?
A basic bathroom is provided with a flush toilet and gas hot water for the basin and shower.
Are bathroom facilities provided?
You need to bring all your own bedding. It is advisable to bring your own cooking implements and food storage containers, torches, and appropriate clothing for all weather conditions. There are no refrigeration facilities so you should plan food accordingly, and bring eskies.
What do I need to bring?
Motor bikes and generators are not allowed, nor is amplified music. However, being in a remote and secluded environment means that no other noise restrictions apply.
Are there noise or other restrictions?
The road to the Bunkhouse & Camping area is unsuitable for caravans and large motor homes. Camper trailers can however be accommodated.
Can I bring my caravan?
Large grassed areas are available near the bunkhouse for games and outdoor activities.
Is there space for games and activities?