Callicoma Hill Eco-Cabin
Our self-contained off-grid eco-cabin can easily accommodate up to 10 people and there is also room for tent camping nearby.
Callicoma Hill Eco-cabin is located on the south-western edge of the Barrington Tops, only 3 hours from Sydney, 2 hours from Newcastle and approximately 1 hour from the Hunter Valley vineyards.
The nearest town is Singleton, 50 km to the south. Mount Royal National Park is just up the road, with plenty of bushwalking options. Picturesque Lake St Clair is about 15 minutes drive away, and offers fishing and boating opportunities.
The eco-cabin has 3 separate bedrooms, a fully equipped kitchen, lounge/dining room, bathroom and shady verandahs.

We only take one booking at a time, so you don't need to share with anyone else!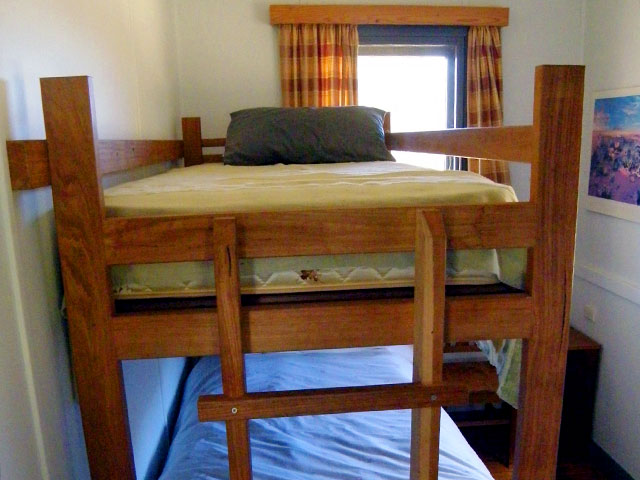 Bedroom 1: 2 single bunks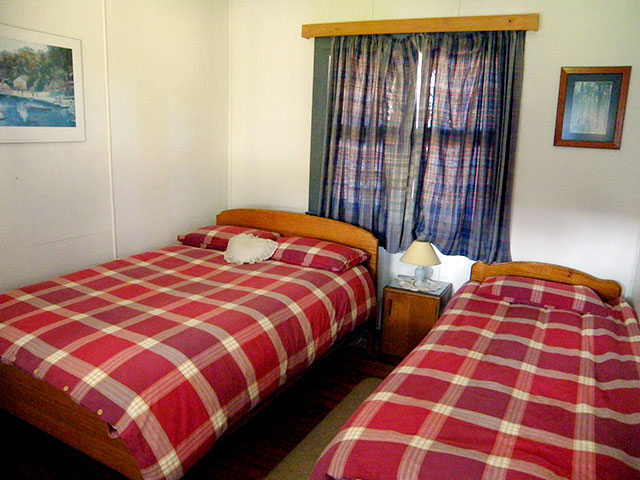 Bedroom 2: 1 double bed and 1 single bed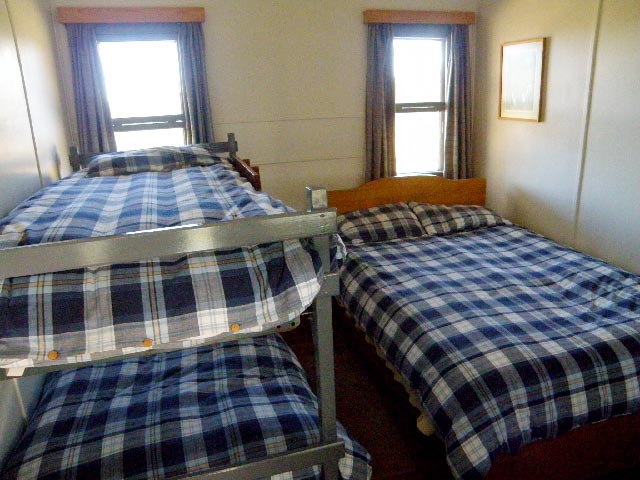 Bedroom 3: 1 double bed and 2 single bunks (recommended for children or small adults)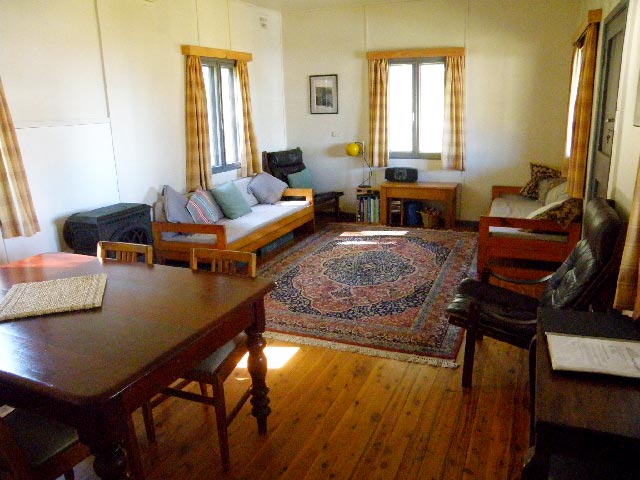 Lounge room: 2 single mattresses (suitable for children)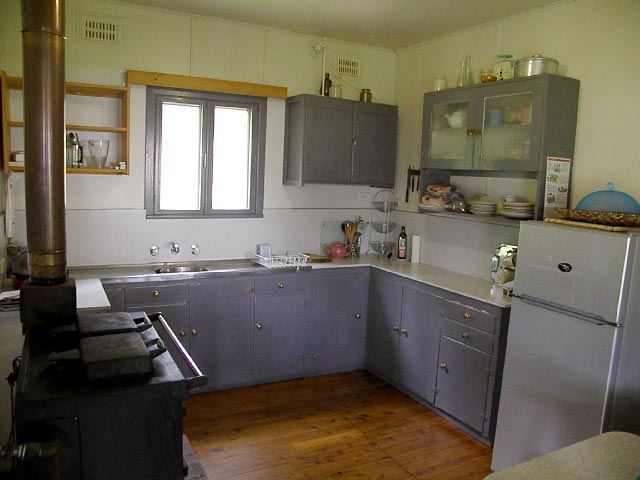 Kitchen Facilities
The kitchen features a traditional wood fuel stove and oven - we will show you how to set and use the wood stove, and all firewood is provided. A gas ring (for a quick cuppa) is also available, plus an outdoor simple wood barbecue and campfire space (dependent on weather and fire restrictions).
The kitchen has a fridge with a small freezer. There is no microwave oven, dishwasher, coffee machine or other energy-intensive appliances. (Please don't bring any kitchen electrical appliances with you, as we have an off-grid limited solar power system). All crockery, utensils and cooking equipment are provided.
Creature Comforts
A cosy wood heater is in the lounge for chilly winter nights. The kitchen stove also heats the kitchen, and provides the hot water for both the kitchen & bathroom. There is no heating in the bedrooms. The bathroom has a flush toilet and shower.
Bring your own bedding (pillows, sheets, doonas/sleeping bags) and towels. We provide hot water bottles and tea towels.
There is no WiFi or TV, but we do have 2 x USB ports to recharge phones, devices and laptop computers. Unfortunately there is no wheelchair access. Smoking is outside only.
There is no air conditioning. In summer, cooling is provided by the cross-ventilation from the windows around the cabins. We also have a desk fan. Also, the cool mountain breeze arrives each evening!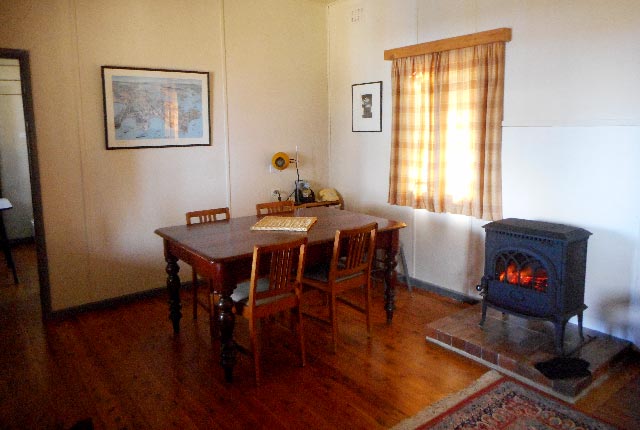 A peaceful and restful time. It's quiet and calm - I had the best night's sleep in ages - Margaret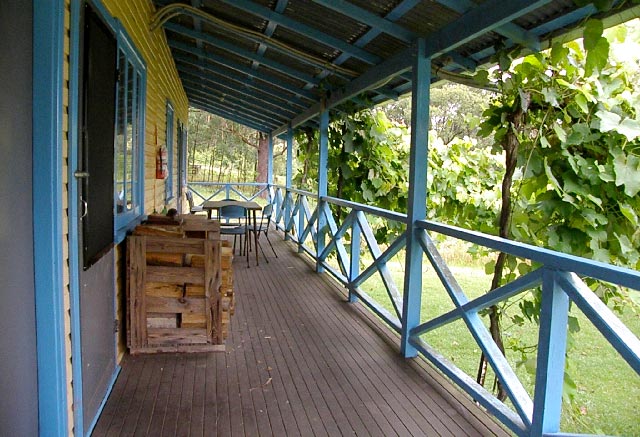 Eco-friendly Features
Many environmental features have been incorporated into the design of Callicoma Hill Eco-cabin to make it a showcase of ecologically sustainable development, and it is accredited by Ecotourism Australia.
Special features are the fully independent off-grid solar electricity supply (with battery storage) & minimal electricity usage, and rainwater tanks that provide pure drinking water. Wood from the property is used for cooking, heating and hot water. Waste water is treated in constructed wetlands.
Wildlife Refuge
There is ample verandah space for outdoor relaxing and dining – with an 80km view!
Callicoma Hill is a wildlife refuge, and home to a range of native animals including threatened species. Kangaroos and wallabies regularly graze near the cabins, and birdsong surrounds you. We do not feed any of our native animals or birds. Guests are not able to bring domestic pets.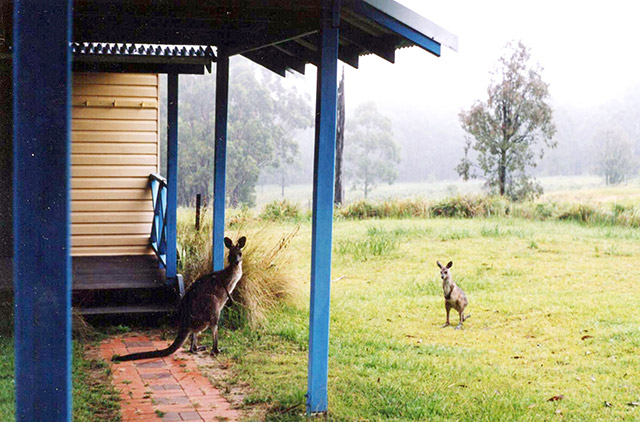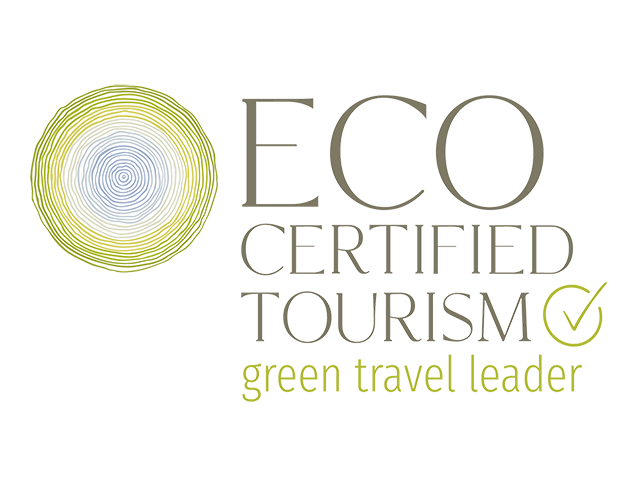 Downloads
Eco-cabin Prices & Booking
Minimum booking $320* (covers 2 adults for 2 nights). Additional adults $45 per person per night and children $30 per person per night with max 10 people. Linen (if required) $15 extra per person.
*Different minimum booking for long weekends & holidays ($480)
We take only one booking at a time for the eco-cabin - you won't need to share it with anyone else!
We also take only one booking at a time for the
bunkhouse
and
bush camping
area that is 800m through the forest from the cabin, and it is possible that there will be a booking there while you are at the cabins.
The whole property (
bunkhouse
,
bush camping
and
eco-cabin)
is available for the exclusive use of large groups and functions including weddings and family events.
Contact us
for a quote and to discuss your requirements.
I am impressed not only with the ongoing energy evident at Callicoma Hill, but with the thoroughness of the research and planning and the totalityof the commitment to and practice of environmental responsibility - Sharyn Munro, Owner Builder Magazine.
Eco-Cabin FAQs
The Eco-cabin can accommodate couples, families, groups of friends or a number of families. It is also excellent for children who wish to camp while parents stay in a room. It is possible to hire both the Eco-cabin and the nearby bunkhouse area for larger groups. The Eco-cabin is also ideal for solo or groups of artists, writers, musicians, thinkers and photographers who need quiet time and space.
What types of guests is the Callicoma Hill Eco-cabin suitable for?
The bedrooms can accommodate up to 9 people, and two bedrooms have double beds. There are two bunk bed sets, but one of these sets is recommended for only children or small adults. See the plan of the cabin layout in the pdf above.
How many people can the 3 bedrooms accommodate?
Bring your own bedding (pillows, sheets, doonas/sleeping bags) and towels. We provide hot water bottles and tea towels. Please bring warm clothes depending on the season, and expect cool to cold evenings, especially in winter. Note that bedrooms are unheated. More frequent rain and mist occurs in the mountains, so it is useful to bring a raincoat and suitable shoes and a torch for use at night. Please don't bring any kitchen or major electrical appliances (including hairdryers), as we have a limited solar power system. We have 2 x USB ports to recharge phones, devices and computers.
What do I need to bring?
Cooking in the cabin kitchen is on a wood stove, which also provides hot water. The wood stove is excellent for cooking (both as a stove and oven) and we show you how to use it. We also have instructions on how to use it. However, it needs around 1 hour to heat up for cooking. Well seasoned firewood for the stove is sourced from our own property and provided free for your use. There is also a simple gas ring for heating up water for a quick cuppa.
Do I need to cook on a wood stove?
The cabin was specifically designed and located with the environment in mind. The building minimises the use of electricity, water and materials, with a focus on durable building materials and appliances. All energy (electricity and wood) to operate the cabin comes from the site and rainwater is collected, used and disposed of without use of pumps by gravity flow. Organic waste is composted and wastewater is treated and managed on site.
Why is it described as an 'Eco-cabin'?