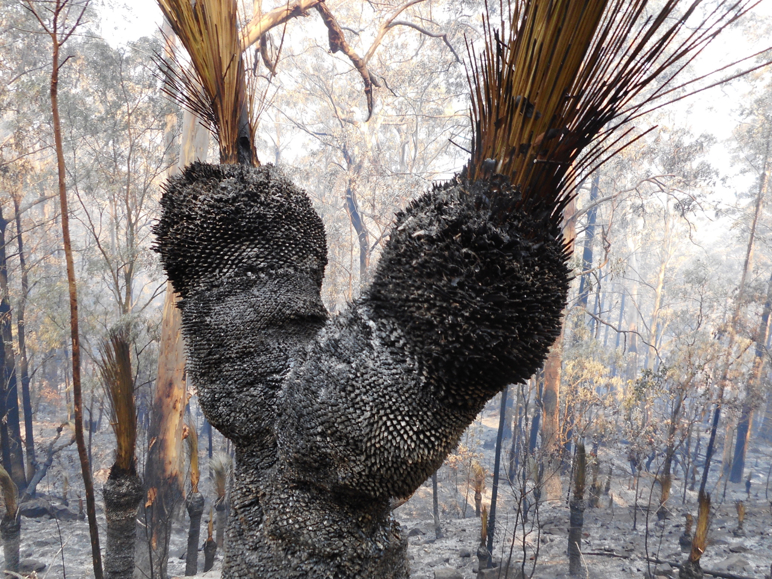 The start to this year, and the new decade has been starkly different from previous years. Heat, crunchy dryness and a bushfire close by have dominated our summer holiday so far. But that is all about to change!
Exactly a year ago, Callicoma Hill hosted an exquisite outdoor solo cello performance on a perfect summer evening, set against the lush green forest. About 50 people who attended will long remember London based baroque cellist Anthony Albrecht's performance of music by Bach as the sun set in the forest.
In contrast, our current hot dry summer follows a year of low rainfall and high evaporation. Plants are stressed, and hot dry winds have left many rainforest and moisture-dependent species scorched and brown. Leaves have been dropping for months and the forest canopy is much more open than usual.
While the thirsty landscape is unusual in our living memory, these conditions are probably not exceptional or unpredicted. This means a heightened risk of fire, a natural feature of eucalypt vegetation communities across much of Australia. Native animals such as kangaroos and wallabies are stressed and short of water, a phenomenon they are adapted to, and evolved with.
With fires along much of the east coast of NSW this summer, we have experienced regular smoke haze as well as drought dust blowing from the parched west of the state.
We have been carefully watching a bush fire that started from a lightning strike about 15 km north east of Callicoma Hill in late November in Barrington Tops National Park. This fire has slowly burnt towards and around Mount Royal as the weather changed, and fortunately mostly spread away from us. The photo shows the northern side of Mt Royal immediately after the fire there.
A number of days of rain are forecast this week – and hopefully for us, and most of Australia, it will continue to fall!
When the fires have calmed down, it will be interesting to observe the post-fire recovery at Mount Royal as plants and animals respond to these natural ecological processes. And our forest will regain its normal lush greenness!