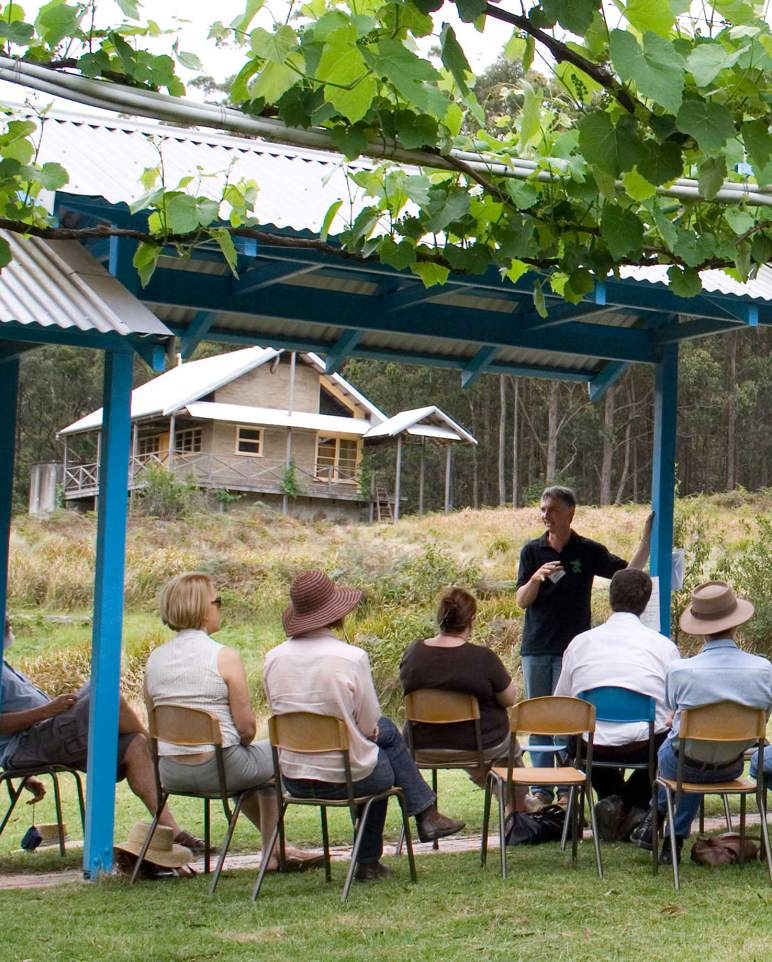 Guided sustainable homes tour: thinking, learning, doing: Callicoma Hill, in the Hunter Valley of NSW, Australia, will host sustainable homes tours on a spring weekend (19/20 October 2019). This is part of our commitment to sharing what we have built and learnt over many years.
Two hour tours explain the design, construction and operation of the eco-cabin and private mud brick house in detail, plus there will be a campfire chat and retro movies on an environmental theme, shown on our solar-powered reel-to-reel projector. A special children's eco-designers tour and activities is a highlight. This is an opportunity to inspire the next generation and pass on our enthusiasm for sustainable living, and our beautiful natural environment.
The tours showcase the practicalities of sustainable buildings at Callicoma Hill. The concept has been to ensure minimal impact on the site, to provide comfortable, healthy accommodation for residents and guests, and to respect the natural environment. Building designer and owner of Callicoma Hill Martin Fallding will lead the tours - he also supervised and undertook much of the construction.
The tours highlight different approaches between designing new buildings, when compared with adapting existing buildings. Whereas the mud brick house is new and was designed from scratch, the eco-cabin buildings are fully recycled and retrofitted. Key features of the buildings which are explained in the tours are the gentle building footprint and maintaining respect for the site and the natural environment.
Minimising energy and resource use was a key part of the buildings as well as use of healthy, sustainable and natural materials.
Martin has built beauty and comfort into the buildings, while at the same time planning for simplicity, and long term durability and maintenance.
With spring flowers adorning the landscape at Callicoma Hill, including the distinctive yellow Donkey Orchids, it is an ideal time to visit and learn more about sustainability in practice.
If you would like to come and experience our buildings for yourself, please explore the information about our eco-cabin, bunkhouse and bush camping accommodation on this website. We will also be holding more Sustainable Homes Tours in the future, so keep an eye on our events page.